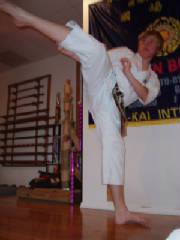 Dalton Woodard (20)
Sensei Woodard's oldest son
Graduated from Trinity Catholic High School. Now enrolled into the Berklee School of Music Program.
Has titles such as State, National, and World Champion
Dalton has either won or placed in every Major Competition since 1994
Has traveled to Japan and Okinawa for training with his father and some of the Legends and Masters of the Martial Arts. He continues to contribute and pass on what he has learned by teaching at the Ocala Karate Dojo. Great Roll Model!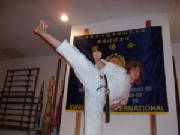 Colton Woodard (19)
Sensei Woodard's youngest son.
Student at Trinity Cayholic High School
Has won Champion tiltes in Forms, Kumite, & Weapons
in every Major Competition since 1995. Colton continues to pass on his skills by teaching, and inspiring the youth class and summer camp at the Ocala Karate Dojo. He recently Tested under the Soke (successor) of the Karate System he trains in Soke Kozo Kuniba at one of his visits to the Ocala Karate Dojo. What a great job!
Colton also traveled to Japan and Okinawa training with his father and Masters of the arts. Colton and his brother Dalton was the film crew for Kyoshi Woodard as he competed in the 2003 World Competition in Okinawa as the oldest Black Belt Competitor. He still placed in the top 10, and was featured on the World Tournament Video distrubuted world wide.
Dalton & Colton Woodard with Dad, Kyoshi Woodard
Florida Regional Champions
Kyoshi Woodard and his sons at one of the AAU State Championships. Both boys qualified and continued winning, but as the competition went on many competitors repeated the same forms both in weapons as well as forms competition as allowed in youth divisions due to limited knowledge. When told they could repeat the same forms, both boys replied the adult Black Belts must perform a different form each time, and they were Black Belts even though in the youth division. So knowing they could be eliminated each did a different weapon for each round, and a different form for each round. They were eventually defeated after several rounds by those using the same routine over and over. At the end of the competition competitors and coaches alike came to them and were amazed at their knowledge, and skill raving on their performances. This was much bigger than the medal, as it is still talked about today 5 years later.
Sensei Frank Rebro, Ocala Karate Dojo Champion at National AAU Championships, placing 2nd with Silver Medal.
Frank Rebro Runner Up AAU National Championships
2004 AAU Silver Medal
Not Pictured is:
Sean Fullwood 2004 AAU State Blakc Belt Champion (Iaido Sword)
Matt Antony 2004 Florida State AAU Champion
Johan Calasabetta 2004 Florida AAU State Champion & 2004 AAU National Champion
AAU State Champions:
Lynn Marie Lusk Double Silver Champion Female Black Belt Div.
Johan Calascibetta Young Adult Advanced Double Gold & Silver
Jason Locay Double Gold Champion, Silver, & Bronze Youth Begginer Div.
Jason Armentrout Youth Div. Double Gold Champion
Frank Rebro Silver Medalist Adult Black Belt
Ocala Karate Dojo Championship Team
Karate Dojo end of year State Division Champions
Back Row from left: Frank Rebro, Lynn Marie Lusk, Colton Woodard, Michael Paglia, Dalton Woodard, Sensei Bill Woodard
Middle Row Left: Nina Baker, Mike Terry, Marcus Buchman, Jason Locay, Malek Hamed
Front Row Left: Bruce Dinh, Mason Parker, Kaitlyn Plunkett, Colt Papy, Kavelin Rumalla